This website is supported by its readers. If you click one of my links I may earn a commission. I am also a participant in the Amazon affiliates program and I will also earn a commission from qualified purchases.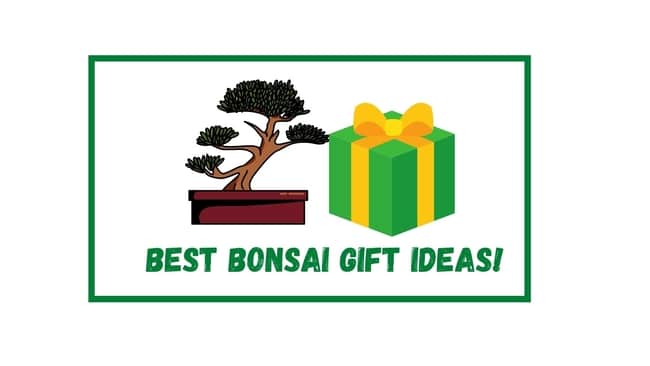 Bonsai trees are becoming more and more popular with people using extended time at home over the past few years to hone in on the hobby. Any gift then will be massively appreciated by loved ones who take up bonsai. So what are some good bonsai tree gift ideas? 
A new bonsai tree, bonsai toolset, sphagnum moss and grow light all make for fantastic bonsai tree gift ideas. Additionally, propagators, lime sulfur, sphagnum moss, and bonsai pots, will be greatly appreciated as gifts by bonsai owners. 
So what are the advantages and disadvantages of these bonsai tree gift ideas? And where can you source these bonsai tree gift ideas from? Keep reading to find out more as I break down the 12 best bonsai tree gift ideas!
Just a quick heads up, over the past three years of running Plantpaladin, hundreds of people have asked for product recommendations. As such, You can find my favorite indoor bonsai tree here (link takes you to Bonsaiboy), my favorite outdoor bonsai tree (link takes you to Bonsaiboy), or have a look at all the products I recommend here. 
A new bonsai tree 
First up, and probably the most obvious gift you can give to a bonsai owner is a brand new bonsai tree. 
We bonsai keepers rarely like to keep our collection to just a single plant and adding a new bonsai tree can be the new challenge we will be waiting for. 
As bonsai trees come in a wide variety of varieties and species, ask yourself the following questions before deciding in on a tree as a gift: 
How much room do they have in their house/apartment 
Do they keep pets or young children – some species of bonsai can be toxic. 
How much experience do they have in keeping bonsai trees? 

Do they have an outdoor garden or will they be keeping them inside?

 
To get a full idea of if the tree you are thinking about purchasing will be toxic then I'd recommend looking at the following posts: 
So what bonsai tree should I buy?
Hopefully, the table below will help specify some of the most common bonsai trees as well as what they work well for. 
| | | |
| --- | --- | --- |
| | | |
| | Very beginner-friendly thrives in both indoor and outdoor conditions, usually non-toxic | Commonly available meaning the person you are buying this for might already have a Chinese elm. |
| | Is very beginner-friendly, thrives in both indoor and outdoor conditions, is usually non-toxic | Commonly available meaning the person you are buying this for might already have a Chinese elm. |
| | Is arguably the best-looking bonsai tree species. Perfect for keeping outdoors year-round. | Quite a lot of shedding with the tips/needles falling of, needs to be kept outdoors and will not thrive in indoor conditions. |
| | is perfect to be kept indoors, does not need watering as much as other species. | Succulents, sot hey can take a while to train, not as visually appealing as other bonsai species. |
| | Great looking evergreen tree, that can be kept outdoors year-round | Can be toxic to pets. Need some experience working with needle-like leaves. |
| | Great looking evergreen tree, that can be kept outdoors year-round | Can be toxic to pets. Need some experience working with needle-like leaves. |
| | Great looking tree, can be kept indoors and outdoors. | Due to the olives, it can attract a lot of pests, not suitable for very cold climates. |
| | Very nice looking flowers, perfect for bonsai keeping experts | Incredibly toxic to animals and people, hard to work with if inexperienced. |
| | Very strong trunk and wood, making it ideal for keeping or planting in the ground in outdoor conditions. | Is Quite hard to come to buy as not very common when compared to Elms or Ficus varieties. |
For more reading on these I'd recommend reading up on the following: 
Where can I get good a good bonsai tree from? 
Whilst there are many good retailers out there such as Eastern leaf or Heron's bonsai, these tend to break the bank. 
Instead, Amazon has a fantastic range of trees, that can be delivered anywhere in the world. 
My recommendation for a bonsai that you keep outdoors would have to be Brussels Bonsai Juniper Tree – you can get it here (link takes you to Amazon). 
This tree is 4 years old meaning the person you will be gifting this to does not have to worry about the difficult first few years of growing the tree. 
This tree is also ideal for being kept outdoors or indoors due to its small size.  
Sphagnum moss 
Another fantastic gift idea would have to be sphagnum moss. 
Sphagnum moss or other mosses have a few benefits from making the topsoil of a bonsai tree more visually appealing, to adding extra moisture to a tree. 
Sphagnum moss in particular can absorb over 8 times its weight in water. 
Tree species that have a habit of drying out or require more water will benefit significantly and so can make a fantastic gift idea. 
Sphagnum moss is widely available from any reputable garden center – On amazon, you can gram Galapagos' sphagnum moss which you can buy here (link takes you to Amazon). 
It's ecologically harvested meaning it only comes from sustainable sources and has also been washed and prepared already. 
Bonsai toolset 
Next up would be a bonsai toolset. 
Pruning, trimming, repotting, developing the trunk, and wiring a bonsai are all regular activities that bonsai owners have to undertake. 
As such, it can be very easy for tools like branch cutters or jin tools to be lost. 
One option then that works very well would be a bonsai toolset that houses all of these in one place. 
These are also widely available but a good option would be Voilamrt's 14-piece toolset which you can grab here – the link takes you to amazon. 
All the tools are made of carbon-grade steel, meaning you won't have to worry about these getting blunt. 
The set also contains every piece of equipment necessary for bonsai keeping so can be a lifelong gift. 
Pest controller 
Sadly, pests are part of the parcel when it comes to keeping bones – even if you keep them indoors. 
Aphids, slugs, spider mites, caterpillars, and scale are all commonplace when keeping bonsai. 
On top of this other animals such as mice, rats, birds, foxes, and squirrels can all either dig up or attack bonsai trees. 
A fantastic gift would be a pest control device. 
While using urine or blood of predators can be effective, they are not especially practical for a lot of us, unless we want our gardens smelling of ammonia. 
A good option I found would be Ultrasonic pest repellers – which you can grab here (link takes you to amazon.) 
These emit low-frequency noses that will repel bugs and pests alike but not frustrate common household pets and children. 
High-grade copper wire 
Wiring is one of the most common activities bonsai owners have to do every year. 
It is done to move and shape the direction and size of the branches. 
Sadly a lot of bonsai owners use aluminum, plastic, or poor grade wire for this process. 
A fantastic and thoughtful gift that we bonsai owners would appreciate would be high-grade copper wire. 
If you can, try to get this in different thicknesses as bonsai owners will need to use different sizes depending on the thickness of their branches. 
A good option for this would have to be Fatpigs set which comes in 1mm,1.5mm, 2mm, 2,5mm, and 3mm thickness – you can grab it here. (link takes you to Amazon)
A grow light 
If the person you are buying a bonsai gift for keeps their bonsai tree indoors, then I would recommend buying an LED grow light for them. 
Bonsai trees require a lot of sunlight, more so than other trees species. 
As such keeping them indoors requires a lot more effort in keeping them healthy. 
Now I've written an entire post talking about the best artificial sunlight for bonsai trees which I would recommend reading but to summarize the best LED grow light would have to be the AQOTER Grow Light – you can grab it here (link takes you to Amazon). 
It's easy to move, comes with both red and blue light – both of which are vital for bonsai and can be managed via a remote. 
Bonsai cold frame 
Bonsai tree species that are not coniferous/evergreen will need to be protected during the winter. 
Heck, even if you live in a climate that is incredibly cold during the winter this would be a good idea. 
Now cold frames are usually created from scratch – you can read up more on that here. 
However, if you don't have the time or patience to create one of these, then consider grabbing a greenhouse/cold frame combo that hits two birds with one stone. 
A fantastic option would be Quicktents which you can grab here – the link takes you to Amazon. 
Propagator 
If the gift you are buying is for someone who has recently started with a bonsai tree then a propagator will make for a fantastic gift. 
Bonsai trees that are planted from a seed or cutting are at their most delicate in the first few weeks of planting. 
As such, keeping them in a place where you can manage their temperature like a propagator will do a fantastic job. 
Luckily propagators are widely available so you should also be able to pick this up at a local store. 
On Amazon, there are good options such as the Lejoy propagator which also comes with humidity vents that will help prevent any seedling or cuttings from getting fungal infections. 
A new bonsai pot 
Bonsai trees typically have to be repotted once every 2-3 years, regardless of the species. 
As such the amount of bonsai pots that bonsai owners have to go through in their lifetime is quite scary to think of!
Add to this that bonsai pots and especially antique bonsai pots can be quite expensive then a new drainage pot will be a fantastic gift idea. 
Whilst there are some good options on amazon, to really make things viable I would consider looking at Etsy. 
They have a fantastic range of antique bonsai pots to suit any taste. 
Just ensure that the pot you choose has enough drainage holes which can sometimes be a challenge – hopefully, the table below can help: 
| | | | |
| --- | --- | --- | --- |
| | | Number of penny-sized holes | Number of pencil-sized holes |
| | | | |
| | | | |
| | | | |
| | | | |
| | | | |
| | | | |
| | | | |
| | | | |
| | | | |
| | | | |
Lime Sulfur 
If the person you are buying a gift for regularly competes in competitions, then one specialty item that will work well would be lime sulfur. 
Lime sulfur is used to create bonsai deadwood or give the appearance that bonsai bark is older than it is. 
Lime sulfur can also double as a pesticide or fungicide making it very useful for all uses in bonsai and making it the ideal gift. 
Humidity Tray
bonsai tree gift idea would have to be humidity trays
As mentioned earlier, bonsai trees need a lot of sunlight. 
Sadly, these trees also require a lot of care in other areas as well such as rainwater and watering in general. 
One option then that can work well to help would be moisture trays.
These can help allow an even distribution of moisture to bonsai roots, whilst still allowing water to not spill out on other surfaces when watering a tree. 
One of the best things about humidity trays is that any tray will do meaning you could create your own. 
That being said if you are in a rush, be sure to check out this specialty bonsai humidity tray which you can get on Amazon here. 
Bonsai books 
Finally, bonsai keeping is never something you complete but instead is a life-long goal that requires an open learning mindset. 
One fantastic gift idea then would simply be bonsai books which can improve their overall skill and ability. 
Now I cover this in more detail in my post here on the best bonsai books but to summarize there is no better book in my opinion then would be Bonsai 101 by Harry Tomlinson which covers everything the person you are buying the fit for will ever need to know about bonsai. – you can grab it here  (link takes you to Amazon)
What makes the best bonsai tree gift ideas? 
Bonsai tree gift ideas can be difficult but with a little thought and some of the suggestions above you should be in good hands. 
I also wanted to find out what other gifts bonsai readers would appreciate. 
As such, I did a quick survey of 20 plant paladin readers and asked them if the above gifts, which one they would like the most – here were the results: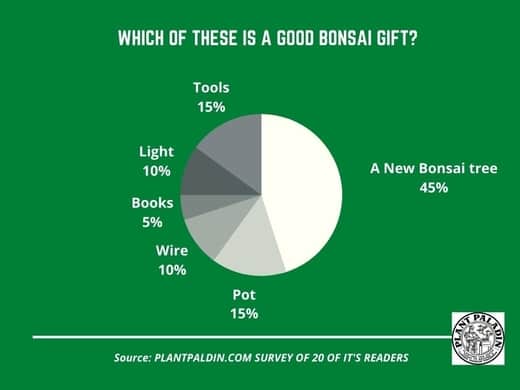 My top picks for the gear you will need!
So like I mentioned earlier, over the past three years of running PlantPaladin, hundreds of people have asked me for my recommendations on the best bonsai gear on the market. 
Having spent thousands of dollars on bonsai items these past few years and tested at least 100 bonsai-specific products, I've listed my favorite products below – All of which I highly recommend and think you can get great value. 
They can purchase directly by clicking the link to take them to Amazon. 
Bonsai Tool Set: One of the significant challenges I've had is finding a toolset that was not only durable but didn't break the bank. SOLIGT has recently developed a fantastic bonsai tool set that covers all the tools you need to trim, prune, and repot your trees. – You can grab it here. 
Complete Bonsai Set: Many of you will want to grow your bonsai trees entirely from scratch, but finding the varicose seeds, pots, and other items in one place can be challenging. Leaves and Sole then have created a complete bonsai set that I've personally used that ticks all the boxes. You can grab it here. 
Bonsai wire: The number of times I've run out of wire for my bonsai or purchased cheap bonsai wire that doesn't do the job is embarrassing for me to admit. After a lot of trial and error, I found that using Hotop's aluminum bonsai wire is one of the best options on the market. This can easily be used for both indoor and outdoor bonsai. You can grab it here.