This website is supported by its readers. If you click one of my links I may earn a commission. I am also a participant in the Amazon affiliates program and I will also earn a commission from qualified purchases.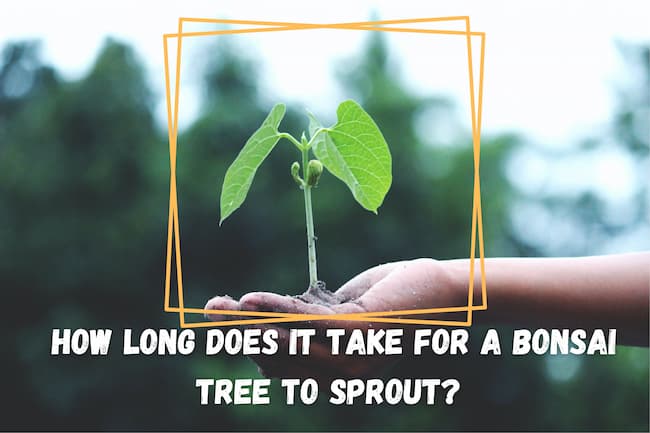 How Long Does It Take For A Bonsai Tree To Sprout? It's an excellent question to ask and one I genuinely didn't know when I first started growing my bonsai from seed. Recently, I started trying to grow my bonsai tree from seed again after a disastrous first attempt. One of the significant challenges I ran into last time was needing the tree seed spout. So, how long does it take for a bonsai tree to spout? 
Most bonsai tree species seeds will take 4 to 12 weeks to sprout. This is because most species used for bonsai trees, such as Ficus or Elm trees, will require a process of scarification or stratification to sprout if grown from scratch. 
So, how long does a bonsai tree take to sprout? And are there some bonsai tree species that sprout faster than others? Keep reading to find out more. 
Just a quick heads up, over the past three years of running Plantpaladin, hundreds of people have asked for product recommendations. As such, You can find my favorite indoor bonsai tree here (link takes you to Bonsaiboy), my favorite outdoor bonsai tree (link takes you to Bonsaiboy), or have a look at all the products I recommend here. 
How long does it take for a bonsai tree to sprout?
To get to the bottom of how long it takes for a bonsai tree to sprout, I grew a few bonsai trees myself from seed, visited my local botanical gardens, and even surveyed 20 plant paladin readers, asking them the same thing. 
To summarise: 
On average, bonsai trees will take around eight weeks for their seeds to sprout, with most species varying from four weeks to a few months. 

The variation is because bonsai trees are not one tree species but several tree species with different seeds. 

As such, each of these seeds will vary in the exact time it takes to spout. 

On top of this, some deciduous tropical species will need to undergo the process of stratification or scarification, which can further add or rescue time when it takes seeds to spout. 

To speed up the process, consider growing a bonsai tree from a plant native to your home country. For example, growing an 

apple tree

 bonsai if you live in

 Washington State

 would be a much better alternative than a traditionally tropical bonsai such as an olive bonsai. 

While seeds will vary in timescales, most bonsai trees will start to spout leaves and new growth after the first 1 to 3 years.

If you are impatient, consider growing your bonsai tree from a grow kit or a cutting to speed up the time of growth further. 
What causes the difference in timescales 
The difference in Species is the biggest reason for the wide variety of timescales When sprouting a bonsai seed.
For example, a Bonsai tree grown natively in the correct conditions (such as growing a Chinese elm bonsai in China) will have its seed grow much faster than a Bonsai tree species grew out of its natural environment, such as growing a Jade bonsai outdoors in the UK. 
When bonsai trees are grown outside of the natural environment, stratification and scarification processes must typically be undertaken to transform the seed to germinate successfully.
These processes of stratification and scarification can range from a few weeks in winter to a few months, depending on the severity and quality of the seed. 
Generally, regardless of species, most bonsai trees should Sprout in as little as four or six months. 
Bonsai trees should not take longer than six months to sprout and germinate; if this is the case, you'll see they are damaged. 
What bonsai tree species spout the fastest?
Typically, bonsai trees with a fast-growing nature will also produce fast-growing seeds. These include Chinese Elm, Maple, Ficus, and Pine species. I would avoid slow-growing species such as Wisteria or Jade, which will take longer to grow and spout if grown outside their natural conditions. 
To help, I've created a table below that goes into more detail on how fast certain bonsai seeds will grow compared to each other. 
How to speed up the process? 
Now, if you are keen to speed up the process of having your bonsai seeds spout, you can do a few things. 
These include: 
Mimicking the seed's natural environment
Using a propagator. 
Consider stratification or scarification techniques. 
Consider using cuttings 
Ensure your pot is large enough.
Mimicking the seed's natural environment
So, the first thing I would do to speed up your seed spouting is simply mimic the seed's natural environment. 
We covered this a few times already, but there is a reason why people can successfully grow apple trees in the UK but need help to grow orange trees. 
We need to try and mimic the tree's ideal growing conditions as best as possible, so ensure that you do so by providing adequate sunlight, temperature, and, most importantly, soil conditions for your seed. 
Using a propagator
One of the things I highly recommend in the first few weeks of planting your bonsai seed is to use a propagator. 
This will take care of many of the care parameters we highlighted earlier and allow you to create a carefully controlled environment to speed up the growth process. 
Consider stratification or scarification techniques. 
Try as you might, some bonsai tree seeds never sprout. One of the main reasons for this is that some species require a period of cold or warm stratification and all scarification to grow successfully. We'll cover this later in the post, but as a general rule of thumb, this will be needed to get your tree to sprout successfully. 
Consider using cuttings 
If you are on a very tight time scale and want to grow your bonsai tree from scratch the fastest way possible, I would pivot and consider using something like cutting. 
This will save you the trouble of growing a sea from complete scratch and having it fail to germinate.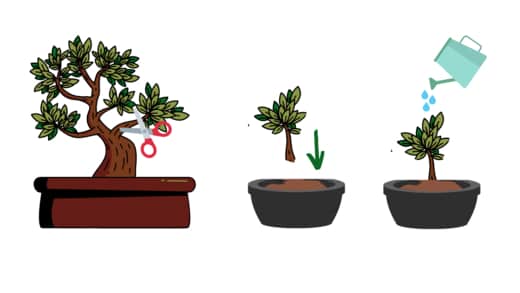 Ensure your pot is large enough.
Finally, one crucial mistake I made that stopped my bonsai seas from sprouting in the past was growing them in too small a pot. 
Ideally, you want your tree to have enough room to absorb the nutrients from the soil and allow water and air to flow through the soil evenly. 
If you are still struggling, and this applies more to Tropical and outdoor bonsai species, consider growing your seats in the ground just for the first few weeks. 
 This should ensure the seeds propagate. 
How do you grow a bonsai tree from a seed? 
So now we know how to help speed up the process of your seeds germinating; how exactly do you grow your bonsai tree from a seed? 
Well, I've written an entire post on this topic, which you can read here, but to summarise: 
Ensure it's the right time of year. 
So you know what bonsai tree you will grow and what tree suits your daily life; next up, it's essential to note the time of year. 
Most bonsai tree seeds propagate and grow best when planted in the fall if the bonsai tree is grown locally and the seeds are ripe. 
Seeds will typically be their ripest and have the highest chances of propagating. Germinating when picked and planted fresh – for most species, this would be undertaken during the middle of the fall or between September and November. 
| | |
| --- | --- |
| | Should I plant my bonsai seed |
| Fall (September - November) | Plant seeds only if they are fresh and ripe and available locally. I would typically only plant seeds at this time of year if they come from an existing bonsai tree in my collection or are grown natively in your climate. |
| | Most bonsai tree species will benefit from being planted in the early spring if they are not native to where you live. |
Purchase your seeds  
So you've decided what tree species you want to grow, understand it is the right time of year, and decide not to opt for grow kits. 
Next up, you need to buy or get your seeds. 
Where should I buy my bonsai seeds? 
There are three main ways you can do this: 
Buy them from a reputable retailer near you. 
Order them online 
Pick them yourself for free.
Scarification 
So, if you have chosen seed from a tree species that is in season or is native to your location, you can skip the steps on scarification and stratification and move on to the step around potting soil. 
For most of you, though, if you have selected a bonsai tree species that are not native to where you live and want to plant it out of season, following the processes of scarification and stratification will be an essential step to propagate your trees. 
What is scarification 
Scarification is softening the seed's outer shell to allow water into the seed. This will speed up the germination process, particularly for traditionally tough seeds. 
When do you need to do scarification?
Scarification must be undertaken if you own a bonsai tree species that must experience the cold before the warmth. 
For example, deciduous species such as maple need to sense the difference in temperature in the winter before the warmer temperatures of spring prompt them to propagate. 
Can I use scarification and stratification together? 
Scarification is typically only reserved for species with more challenging seeds. Scarification should be undertaken before stratification. Not all species that require stratification, however, will need scarification. 
How do you undertake scarification?
There are three main ways of undertaking scarification. 
These include: 
Eroding the side of the seed 
Making a small hole 
Using hot water
Let's explore these in more detail: 
Eroding the side of the seed
One of the older scarification methods is to weaken the seed's shell. 
The theory behind this is the weaker the shell, the better the chances the roots of the tree will be able to penetrate the seed. 
The primary method in which this is done is by using an object to wear down the sides of the seed. 
This is most commonly done with sandpaper but can also be undertaken with a nail file or any item with a rough edge, such as a metal sponge. 
To scarify using this method, use either two sheets of sandpaper or wrap your seed in sandpaper.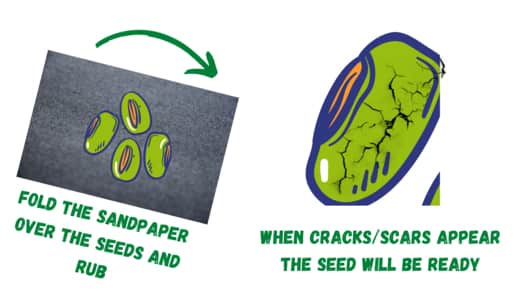 Then, rub the seed down through the sandpaper in a clockwise and anti-clockwise direction. 
Check every 30 seconds to see if the seeds are being scratched; if so, you can stop scratching. Harder seeds may need more effort. 
Using hot water
The hot water scarification method is easily the most common and widespread. 
To do this, fill a bucket or pot full of hot water. 
This water should be hot but not boiling, so a temperature of about 80 degrees works perfectly for most seeds. Now, the exact temperature of water you will need for scarification will vary from species to species. 
To help this, however, I've come up with a table below which should help: 
Then turn off the heat and let the seeds soak in the water as it cools for 12 to 24 hours. 
Some seeds will float to the top and should be discarded as these seeds will not germinate. 
Then, after 12 to 24 hours, the seed's outer shell should soften, making it ready to move on to the next step.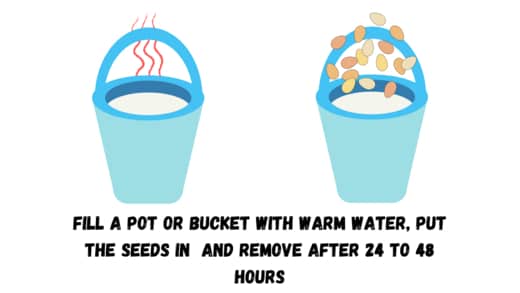 | | | |
| --- | --- | --- |
| | | Temperature of water for scarification |
| | | |
| | | |
| | | |
| | | |
| | | |
| | | |
| | | |
| | | |
| | | |
What to do after scarification?
Once your seeds have gone through the scarification process, they should be moved straight into the stratification process. 
Stratification 
The next step of the process of preparing your seeds is stratification. 
While scarification is only really needed if your seeds are tricky, stratification is much more common and used for most species not native to the country they are being grown in. 
What is stratification
Stratification is exposing your seeds to cold or warm temperatures to activate winter conditions, allowing you to plant your bonsai tree seeds at temperatures and seasons where your tree would not normally grow. 
An example is if you purchased seeds for a Japanese white pine. While these are planted in the fall in Japan, the temperatures and conditions in the autumn in Japan will differ from autumn/fall in countries like the UK and USA. 
For the seeds of this tree to sprout in spring, as they would typically, these seeds will need to be treated via the stratification process. 
Stratification then will mimic the winter conditions needed for your seeds to sprout in the spring as they would normally. 
How do you undertake stratification?
There are two main methods of stratification: 
Cold stratification 
and heat stratification
Cold stratification
Place your seeds in a plastic bag – cheap ziplock bags work best. 
Ensure that the plastic bag is kept moist; this can be done with a few sprays of a water spritzer by placing sphagnum moss on the inside, using a moist paper towel, or using a soil type such as peat. 
Then, store your bag in a fridge for 1 to 6 months. 
An example of what stratification will look like when undertaken with an acorn
For most species, the sweet spot will be between 90 and 120 days. 
After the period, some of your seeds will have started germinating and be ready to be planted.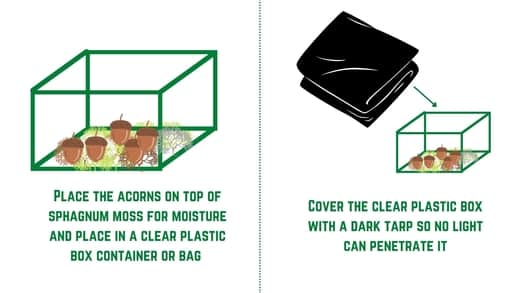 Heat stratification 
Warm stratification will only be needed when your bonsai tree seeds need more significant temperature changes before germinating. 
Heat stratification is then used to break up the process of cold stratification. 
Bonsai seeds are removed from the freezer for cold stratification and left at room temperature for some time before being moved directly back into cold stratification. This will vary depending on the species, so check the instructions for your seeds to see if you need to follow heat stratification.  
| | | |
| --- | --- | --- |
| | Time in the refrigerator for cold stratification | Time at room temperature for heat stratification (after cold stratification) |
| | | |
| | | |
| | | |
| | | |
| | | |
| | | |
| | | |
| | | |
| | | |
What to do after stratification
After the stratification process, your seeds should be ready to be planted, regardless of the time of year. 
Invest in a suitable potting soil. 
A few days before you plant your seeds is the perfect opportunity to purchase and gather suitable potting soil for your bonsai. 
Bonsai tree potting soil is an in-depth topic, so I wrote a post here. 
To summarise, however, all good potting soils need to have three main elements to them: 
Aeration 
Drainage 
Moisture retention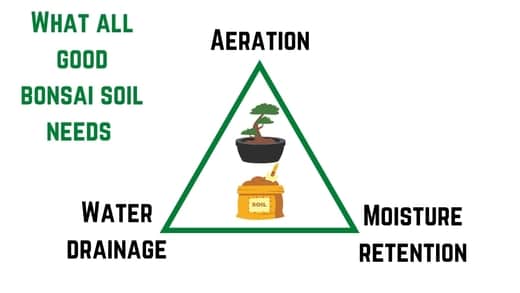 Plant your seed 
So your seeds are ready, and your potting soil is good to go; now it's time to plant them. 
First, select the right pot. 
Using a shallow or expensive bonsai pot isn't recommended at this stage, as you will repot your tree in a year or so into one of these. 
Using smaller 2 to 3-inch pots works best for potting seeds.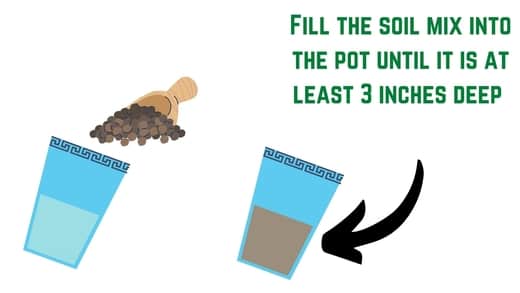 Start by filling your pot of choice with the soil. 
Then, make an indentation in the middle of the soil, either ¼ to ⅛ of an inch deep, depending on the species, and place your seed with the roots, ideally facing downwards. 
You can then cover the indentation with the remainder of the topsoil until the soil is level. 
| | |
| --- | --- |
| | How deep you should sow the seeds |
| | |
| | |
| | |
| | |
| | |
| | |
| | |
| | |
| | |
Keep in a propagator for a few weeks. 
I like to throw in this additional step to ensure that your seeds have the best chance of growing into seeds. 
Using a propagator will allow you to control the exact light, temperature, and humidity levels your newly planted seeds will receive daily over a 2 to 6-week period. 
A propagator will also protect against insects, birds, and squirrels that like to dig up these seeds. 
Move into the right environment. 
Finally, move your tree into the right environment. 
Start by moving your trees into the shade for a week, then ease them into half the week in the shade and half the week in the sun. 
In week three, move your seeds into full direct sunlight or where they will remain during the growing season. 
Is it hard to grow a bonsai tree from a seed? 
While challenging, growing a bonsai tree from a seed is relatively easy. Just ensure you grow your bonsai from a seed in the conditions best suited to that tree. 
For example, growing a Chinese Elm bonsai from a seed views a willow bonsai from a seed will require two different approaches. 
The difficulty of growing a bonsai tree is less about the day-to-day work required and more about the time and patience required to do so successfully. 
What seeds work best to grow bonsai? 
Fast-growing bonsai tree species such as Chinese Elm, Willow, and Ficus will work best from growing from seed. This is because they will spout much faster and require minimum work in most conditions. 
What seeds work worst to grow bonsai? 
Bonsai species such as Jade or Wisteria that are slow growing will be more challenging to grow from seed. These seeds will often require periods of stratification/scarification and take months to sprout. 
How long does it take for a bonsai tree to gain new growth? 
So, this post has talked a lot about sprouting bonsai seeds, but it's also worth noting how long it will take for the leaf growth to occur. 
Most bonsai trees will not have any leaves within their first year, but between years one and five, almost all bonsai trees will develop some maturity and root structure, trunks, branches, and some degree of foliage. 
How long does it take for a bonsai tree to sprout? 
Finally, I wanted to finish by asking 20 plant paladin readers how long does it takes for a bonsai tree to sprout.
To summarize: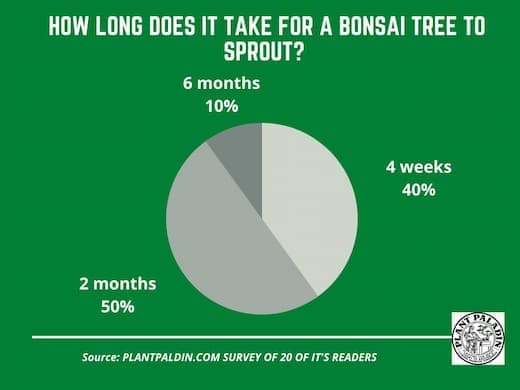 My top picks for the gear you will need!
So like I mentioned earlier, over the past three years of running PlantPaladin, hundreds of people have asked me for my recommendations on the best bonsai gear on the market. 
Having spent thousands of dollars on bonsai items these past few years and tested at least 100 bonsai-specific products, I've listed my favorite products below – All of which I highly recommend and think you can get great value. 
They can purchase directly by clicking the link to take them to Amazon. 
Bonsai Tool Set: One of the significant challenges I've had is finding a toolset that was not only durable but didn't break the bank. SOLIGT has recently developed a fantastic bonsai tool set that covers all the tools you need to trim, prune, and repot your trees. – You can grab it here. 
Complete Bonsai Set: Many of you will want to grow your bonsai trees entirely from scratch, but finding the varicose seeds, pots, and other items in one place can be challenging. Leaves and Sole then have created a complete bonsai set that I've personally used that ticks all the boxes. You can grab it here. 
Bonsai wire: The number of times I've run out of wire for my bonsai or purchased cheap bonsai wire that doesn't do the job is embarrassing for me to admit. After a lot of trial and error, I found that using Hotop's aluminum bonsai wire is one of the best options on the market. This can easily be used for both indoor and outdoor bonsai. You can grab it here.