This website is supported by its readers. If you click one of my links I may earn a commission. I am also a participant in the Amazon affiliates program and I will also earn a commission from qualified purchases.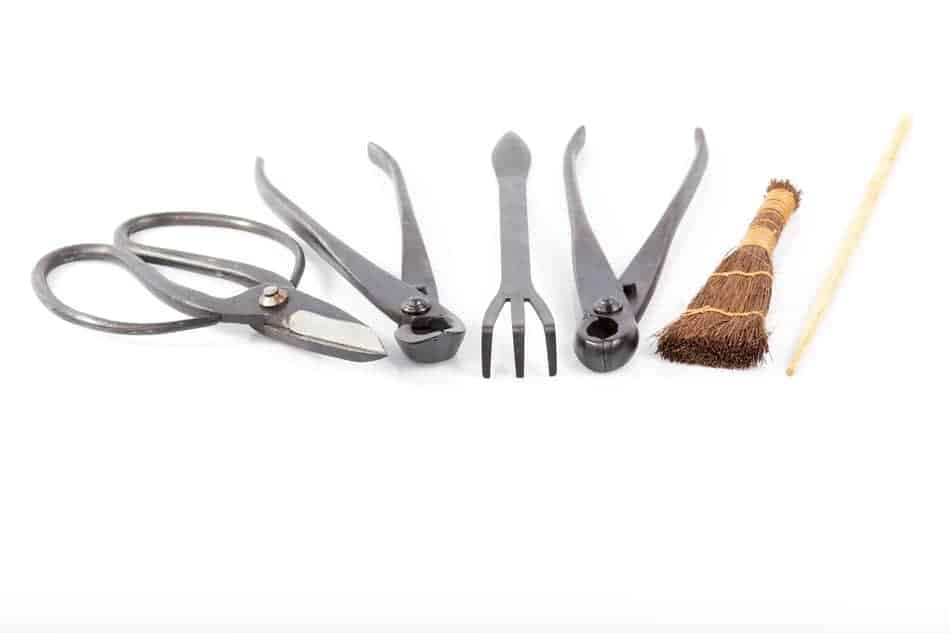 One of the recent discoveries I've had on my bonsai journey is bonsai Jin. The process of creating deadwood branches and peeling them back can make the difference between a standard bonsai to having a showstopper in your collection. So what are the best bonsai jin tools that you need to create bonsai jin? 
Sharp gardening shears, concave cutters, jin pliers, and a small jin bonsai carving tool are all essential items needed to create effective bonsai Jin. These will individually be used for scoring, peeling away cambium, tapering, and trimming your branches. 
So what are the best bonsai jin tools in all of these categories? And how exactly do you create bonsai jin? Keep reading to find out more!
Just a quick heads up, over the past three years of running Plantpaladin, hundreds of people have asked for product recommendations. As such, You can find my favorite indoor bonsai tree here (link takes you to Bonsaiboy), my favorite outdoor bonsai tree (link takes you to Bonsaiboy), or have a look at all the products I recommend here. 
What are the best bonsai jin tools?
Bonsai jin can make the world of difference when it comes to styling your bonsai, really making it stand out when compared to other plants. 
In order to create bonsai jin, the following tools will be needed. 
Bonsai shears –  Used to trim back the foliage, secondary and tertiary branches.
Concave cutter-  To score the branch used in creating bonsai jin so the cambium does not get removed from the trunk of your tree. The concave cutter will also be used once the cambium has been removed to help taper and trim the jin if needed. 
Jin pliers–  These are used to separate the cambium from the branch, but to also twist and shape the jin. 
Bonsai carving tool- Used to trim back and create jin on tiny branches that are too small to be trimmed through concave cutters or jin pliers. 
Now finding a good durable bonsai jin tool that you can use for all of these can be tough – especially if you have a large bonsai nursery where these tools will be used a lot. 
Luckily for you, I've scoured the web and even purchased a few items myself to find the best bonsai jin tools out there. 
Let's explore these below. 
Best bonsai shears for bonsai jin
So the first product you will need is garden/bonsai shears. 
These are used for multiple things in bonsai, mainly trimming and pruning unwanted branches or leaves (mainly done in the process of defoliation or ramification). 
For bonsai Jin, this is used to trim back any secondary or tertiary branches from the branch, ensuring we have a clean branch to work with. 
 So what are the best options: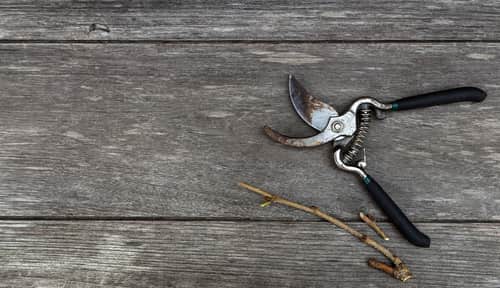 Best premium bonsai shears 
The Tobisho Pruning Shears (link takes you to Amazon) are easily the best premium brand pruning shears you can get. 
They are made of high carbon steel meaning they will be durable for years in the future. 
They are also made in Japan and their primary purpose is bonsai, meaning that this is the best option. 
The only drawback for this I would say is the weight which at 250 grams, can be a little heavy, especially if you have a lot of branches you would like to make jin out of. 
Best entry-level bonsai shears 
Sure Cuts Bonsai Shears (link takes you to Amazon) are a fantastic option you can use for bonsai jin that does not break the bank. 
They are incredibly lightweight making them easy to move around and at a 200mm diameter should be large and strong enough for most bonsai trees when creating Jin. 
The only downside to this is that the blades may start to wear down after a few years but the money-back guarantee should help with that. 
Non-Amazon alternatives
Now I appreciate some of you might not want to get your items from Amazon or might be searching for other alternatives. 
Easternleaf has a fantastic set of all-purpose bonsai shears (link takes you to eastern leafs website) that are perfect not only for pruning branches and leaves but being directly used for bonsai jin. 
They measure 8 inches long by 3.5 inches wide, being comfortable for most hands and not breaking the bank either!
Best concave cutter for bonsai jin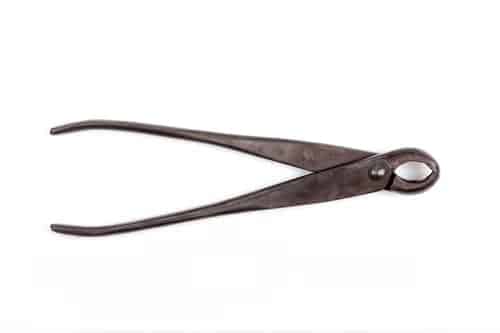 So next up in the process of making bonsai jin, you will need a concave cutter. 
This will have multiple purposes throughout the process – firstly it will be used to score the bottom of the branch to ensure that you do not remove too much cambium from your tree. 
Secondly, these can be used to cut and tweak your branch to get a natural-looking taper if that is the design that you are after. 
Let's explore some good options below: 
Best premium concave cutters
Kiku Classics 11inch bonsai Concave Cutter (link takes you to Amazon) is the best premium concave cutter available. 
Like all good bonsai tools it is made in China from 100% Japanese steel and is best used for cutting larger branches that are close to the trunk, so should suit all large-sized bonsais  if you are unsure of your bonsai size, check out this post) 
Now, this cutter does have some downsides, firstly at 11inches, it may be too big for your tree. 
It also weighs over 300 grams so can be slightly unwieldy – but for what you need it to do for creating bonsai jin there's no better option. 
Best entry-level concave cutters
Another good option that doesn't break the bank would have to be the Mu Tian bonsai concave cutter (link takes you to Amazon).  
At 6.5 inches these are a lot easier to wield and move around being especially useful when managing smaller trees and creating Jin out of them. 
They also have a 2-year guarantee so you can rest assured that you can be future-proofed for a replacement going forward. 
Non-Amazon alternatives
The best non-Amazon alternative to bonsai concave cutters for bonsai jin would once again have to be Easternleaf. 
They stock the Kenshin Concave cutter (link takes you to their site). 
This is manufactured directly in Japan made of carbon steel and is even used by many advanced bonsai owners. 
Best bonsai jin pliers
Let's be honest, when most people are searching for bonsai jin tools – this is exactly what they have in mind. 
Bonsai jin pliers then are an essential part of creating Jin on your bonsai. 
They are used to pull off the cambium from your branch and expose your bonsai bear, further allowing you to trim and whittle down your deadwood branch. 
Now a good bonsai jin plier will easily pull off any cambium without damaging the tree, so this is arguably the most important tool you will need when creating bonsai jin. 
Best premium bonsai jin pliers
Tian bonsai jin pliers (link takes you to Amazon) are a fantastic premium option you can use during the peeling back process of creating jin. 
They are stainless steel meaning they are rust-resistant so keeping them outside in a bonsai nursery is perfectly acceptable. 
They also measure 8 inches meaning they should be the perfect size to peel back any cambium with relative ease regardless of the size of your branches. 
Finally, these pliers also come with a 3-year guarantee, meaning if anything goes wrong, you will be covered. 
Best entry-level bonsai jin pliers
Now sadly, bonsai jin tools are likely going to be one of the more expensive tools you will get for your bonsai as the forceps need to be as small and strong as possible in order to peel back the cambium from your plant. 
That being said, there are some less expensive options that whilst not strictly purpose-built for bonsai, I found can be used for bonsai jin. 
This includes the p6 needle nose plier (link takes you to Amazon) whose forceps should be small and strong enough to do the job traditional jin pliers are built for. 
They are also super lightweight meaning they are a lot easier to move around and make regardless of the size of your tree. 
Non-amazon option
Now, this is one of those rare occasions when I would actually seek out a bonsai specialist for jin pliers as they are such a specialty item. 
For my money then, there is no better option than these Ryuga Stainless Steel bonsai jin pliers (link takes you to eastern leaf). 
They also have super fast shipping meaning you won't have to be waiting for weeks on end to get your items. 
Best bonsai carving tool 
Finally, we have bonsai carving tools. 
These are especially useful if youtube branches you want to make a jin from are very small or super close to the trunk of your tree. 
This can make it difficult to sometimes use the other items in this post and so using a carving tool can speed up the process. 
Just be aware that whilst using a bonsai carving tool to create jin might be quicker, it's also going to be a lot messier so be sure to take your time. 
Now, these items can be quite difficult to find, with most people opting for the other methods but the best option out there that is relatively inexpensive has to be the jin carving tool from eastern leaf (link takes you to their website). 
This measured a total of just over 5inches meaning it is small enough to get into even the toughest of branches. 
It also comes with loads of variation on the top carving too ranging from circle square and triangle designs meaning you can get your jin to look exactly as you would like it to. 
Bundle products that work well for bonsai jin
So you might find a lot of the items in this post will add up if you get them all individually. 
Luckily a lot of manufactures understand that you will be using multiple tools to create bonsai jin, and sell bundles items together – your wallet will definitely thank you!
I've listed my favorites below: 
Amazon – Bamboo MN ( link takes you to Amazon)-  have a fantastic set that contains all the essential items you need to create jin, as well as 6 additional items you can use for the general pruning and cutting of your tree. 
Easternleaf – Complete 8 piece premium set ( link takes you to Eastern leaf) – made of high-grade steel and comes with a roll to keep all your items safe. They are also incredibly sharp meaning this is likely the only set of tools you will need to get for your bonsai. 
What are bonsai Jin tools? 
Bonsai jin tools are typically garden shears, concave cutters, bonsai jin pliers, and bonsai carving tools, all of which are used to create and develop bonsai jin. Many of these items are usually bundled together to create bonsai jin kits. 
What do bonsai jin tools do? 
Bonsai jin tools help trim any excess foliage from your branches, score your branch, remove the cambium from your branch, and then styling your jin or deadwood into a visually appealing design. Bonsai jin tools then each have a purpose to help achieve this. 
What is bonsai jin 
Bonsai jin in the process of removing the hardwood of a bonsai typically called the cambium from one or several tree branches. The exposed branch then will be whittled and carved to look as visually appealing as possible.
"To jin a bonsai is to expose the underwood of your tree branch for visually appealing and aesthetic reasons."
What plant species work best for bonsai jin? 
Plant and tree species with many branches such as junipers typically work best for the process of bonsai jin. Junipers typically have stronger branches meaning they can take more adjusting and pruning than other species. 
How to jin a bonsai? 
To jin a bonsai you need to do the following: 
Select a branch you want to jin 
Using shears, trim any excess foliage secondary or tertiary branches so you have one branch remaining
Score the bottom of your branch where it meets the trunk with concave cutters – this will ensure you do not remove any excess cambium that you need. 
Using bonsai jin pliers, press film against the branch until you hear a crunch 
Peel the cambium back from the top of your branch and it should easily peel away 
Finish off by styling by tweaking with either bonsai jin pliers or with concave cutters. 
If your branch is small and close to the bark, consider using specialist bonsai jin carving tools.
Now this could be a post all on itself but to help explain more eastern leaf have a fantastic video talking all about this below: 
My top picks for the gear you will need!
So like I mentioned earlier, over the past three years of running PlantPaladin, hundreds of people have asked me for my recommendations on the best bonsai gear on the market. 
Having spent thousands of dollars on bonsai items these past few years and tested at least 100 bonsai-specific products, I've listed my favorite products below – All of which I highly recommend and think you can get great value. 
They can purchase directly by clicking the link to take them to Amazon. 
Bonsai Tool Set: One of the significant challenges I've had is finding a toolset that was not only durable but didn't break the bank. SOLIGT has recently developed a fantastic bonsai tool set that covers all the tools you need to trim, prune, and repot your trees. – You can grab it here. 
Complete Bonsai Set: Many of you will want to grow your bonsai trees entirely from scratch, but finding the varicose seeds, pots, and other items in one place can be challenging. Leaves and Sole then have created a complete bonsai set that I've personally used that ticks all the boxes. You can grab it here. 
Bonsai wire: The number of times I've run out of wire for my bonsai or purchased cheap bonsai wire that doesn't do the job is embarrassing for me to admit. After a lot of trial and error, I found that using Hotop's aluminum bonsai wire is one of the best options on the market. This can easily be used for both indoor and outdoor bonsai. You can grab it here.
This post was written by Fehed Nicass who has been passionate about bonsai for over 2 years. He currently resides in the UK and works in sales.