This website is supported by its readers. If you click one of my links I may earn a commission. I am also a participant in the Amazon affiliates program and I will also earn a commission from qualified purchases.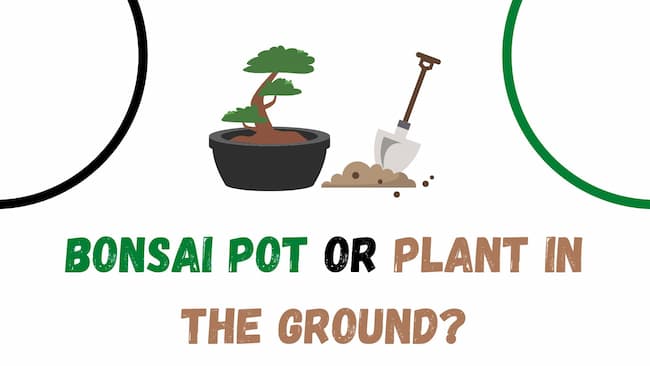 With the weather changing, many gardeners and bonsai enthusiasts are asking if it's better to plant bonsai in the ground than in a pot. I've used these methods in the past, and I know that both have different pros and cons. So which is better, planting your bonsai in a pot or the ground and whole will win in a fight between bonsai pot vs ground?
Planting a bonsai tree in a pot is much better than plating a bonsai tree in the ground. Planting a bonsai in a pot allows you to control the potting soil, environment, and growth rate of your bonsai. Bonsai trees are grown in the ground. However, they may grow significantly more extensively and faster than in a pot. 
While planting in the ground helps to prevent root rot, this method's biggest drawback is needing to control the plant environment. Planting in a pot is more controllable, but the roots can get constricted, which can seriously stunt the plant's growth.
The success rate also depends on the individual plant and the climate it is grown in.
If you're trying to slow down the growth of a bonsai, I recommended to plant it in a pot. Moreover, if you live in an area with strong winds and frost, the best option is to plant bonsai in a pot.
Nevertheless, many other aspects must be considered to make the process successful, regardless of the weather and other conditions. So, let's find out which of these options is better suited to your needs.
Just a quick heads up, over the past three years of running Plantpaladin, hundreds of people have asked for product recommendations. As such, You can find my favorite indoor bonsai tree here (link takes you to Bonsaiboy), my favorite outdoor bonsai tree (link takes you to Bonsaiboy), or have a look at all the products I recommend here. 
Bonsai pot vs. ground
So while I have experience growing bonsai trees in a pot and on the ground, I didn't just want to use my own experience. 
As such, I got in touch with my local botanical gardens and surveyed ten plant paladin readers, asking them what was better. 
To summarize: 
Bonsai trees can be grown successfully from the pot and directly in the ground. 

However, growing bonsai trees in a pot is how bonsai has been conceived for 

hundreds of years

. 

Growing bonsai in a pot allows you to manage better elements, such as the 

potting soi

l and the environment the tree is located in, and generally gives you more control of the tree's growth. 

This will also ensure that your tree stays smaller in size, which is vital if you want to ensure your tree falls under a minor 

bonsai size classification

. 

Bonsai trees grown in pots also allow you to grow a wider variety of trees, such as indoor species such as 

Chinese Elm

, 

Ficus

, or 

Jade

. 

However, growing a bonsai tree in the ground has benefits, such as growing much more significant, imperial-sized bonsai trees or growing bonsai trees in a much faster timescale than you would originally.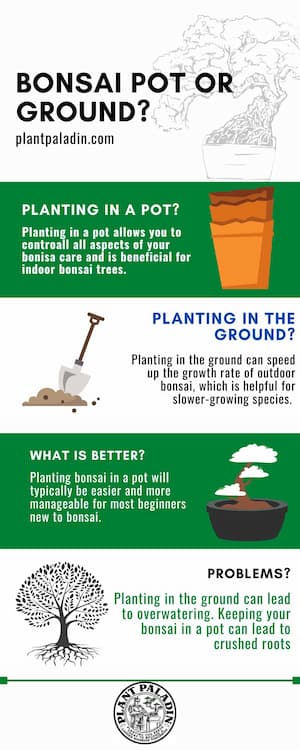 Let's explore this in more detail:
What is better: Bonsai pot vs ground
Many bonsai enthusiasts believe that planting and growing a tree in the ground is better than planting the same tree in a pot. Planting in the ground gives the tree space to grow and develops into a thick, tapered trunk with more extensive roots.
It is also believed that if the tree is grown in the pot, its growth is restricted, resulting in slow trunk development. It requires several years for the plant to develop a thick trunk. 
Gardeners usually choose the ground to plant their trees to speed up growth. 
Let's look at some of the advantages and disadvantages of both bonsai pot vs. ground to understand the two techniques in a better way.
Benefits of planting bonsai in pots
There are several benefits of planting a bonsai in pots. Some bonsai enthusiasts love to plant in pots for specific reasons:
Convenience
It is very convenient for bonsai owners to plant bonsai in their homes. 
Some homes may need more space to accommodate bonsai planted in the ground, so pots are needed to extract the benefits of a bonsai in their homes. 
We all know bonsai have a lot of health benefits, and everyone should keep them in their homes. 
If you need more space in your home, you can always choose an appropriate pot for planting bonsai.
Aesthetically pleasant
Some bonsai trees can be beautiful, be it cascade,semi-cascade, or even sumo bonsai tree styles. 
If you keep bonsai in pots at home, it can add to the look of your home.
Moving and planting your bonsai in the ground outdoors just means that you won't be able to see the beauty of these trees on a day-to-day basis. 
Prevents over-watering  
One of the significant benefits of planting your bonsai in a pot is that you will no longer overwater your tree. 
Watering your bonsai tree is usually undertaken by touching the topsoil. 
If dry to the touch, then your tree will need watering. 
One major problem with keeping your tree planted in the ground is excessive rainfall, or ground water can build up in your tree, overwatering it even if you think the tree is now. 
Benefits of planting bonsai in the ground
So while planting bonsai in a pot is likely the best option for most of you, there are several reasons why you should consider planting your bonsai tree in the ground. 
More space to grow
Bonsai trees are regular trees that, through planting in a pot, have gone through a miniaturization process. 
Planting a species of tree used in bonsai, such as juniper, in the ground will grow much faster and quicker than regular bonsai trees. 
This is because the roots can grow and expand much faster than they would in a pot, whereby the edge of a pot is likely to impact the overall root growth. 
The roots expand freely, allowing more water and nutrients to be transported to the tree. 
This additional top growth begins a cycle that produces more nutrients for the tree, feeding it back to the roots, allowing them to expand further and continue the growth cycle.
This growth spurt leads to rapid trunk thickening, which can be vital in the early years of planting your bonsai tree. 
If you have a slow-growing tree species that doesn't resemble a bonsai tree after a few years, consider planting it in the ground for a few years to increase its growth. 
Helps the environment
According to a recent study conducted by many leading beekeepers, 50 billion bees were killed in the winter of 2019, more than seven times the world's population.
Combined with the fact that we are losing about 9% of the global insect population every decade, the environment is in serious trouble.
Simply planting a bonsai tree in the ground, mainly if your bonsai contains flowers or fruits, can attract various insects to pollinate the plants and trees that are beneficial for our ecosystem.
Also, all kinds of greenery in your yard, especially if you live near busy roads or high-traffic areas, can help remove some of the carbon dioxide from the air that contributes to global warming and climate change.
Makes your garden attractive
Bonsai trees help give an attractive look to your garden. 
This, in turn, makes your home look gorgeous and much more aesthetically pleasing than without bonsai.
It will make your morning walks more enjoyable and, more importantly, even help increase your house price. 
Cost-effective
If you plan to keep your bonsai indoors, the right soil mixture, bonsai pots, an investment in UV lights for the winter, fertilizers, and general plant nutrition may all be needed. 
Even if you store your bonsai outdoors, you should invest in a rack to store your bonsai and another place to store your bonsai in your garden.
By planting your bonsai in soil, you avoid all these costs as the soil naturally nourishes the tree, and you don't need to invest in additional UV lamps or pots.
Drawbacks of planting bonsai in pots
Several drawbacks prevent us, bonsai enthusiasts, from planting bonsai in pots. Let's have a look at these.
More maintenance cost
Less space for growth
Insect infestation is difficult to control
Black mold causes health issues
The low life expectancy of plants
Drawbacks of planting bonsai in the ground
Planting bonsai in the ground has some disadvantages, too, that may discourage some gardeners. These include;
More space needed
Outdoor maintenance required
Over-watering may occur
Species that benefit from being planted in the ground
Different species of bonsai are appropriate for planting in the ground. These are;
Species that benefit from being planted in the pot
These bonsai species grow better when planted in a pot;
Ficus

Carmona

Schefflera

Chinese Elm

Jade

Snow Rose
Is it easier or more challenging to plant bonsai in the ground or in a pot?
Planting bonsai in shallow pots is more straightforward than planting them in gardens outside. Only limited equipment is needed for planting bonsai indoors, as only shallow pots are needed. For planting outside, you would need specialized gardening equipment.
The tricky part is to maintain a bonsai indoors. 
Bonsai kept indoors need essential elements to grow correctly. 
If there is not enough sunlight, the plant may die quickly. 
If you live in a space without windows, your bonsai should be taken outdoors every two to three days to ensure it gets proper sunlight.
Bonsai planted in the ground do not need extra sunlight. 
Bonsai trees get enough sunlight to make food for their growth, especially if you plant them in the brightest spot in your garden. 
The cost of planting indoors is much more than planting bonsai outdoors. Bonsai pots can be quite expensive, and maintenance costs increase with time.
Do bonsai trees grow faster in pots or on the ground?
Bonsai trees grow quicker in the ground than in pots. They have more room to spread their roots, so they grow faster in their natural habitat, garden soil, or backyard lawn. 
Bonsai in pots have space restrictions that only allow them to expand as much as they want. They are free to grow in the ground with natural nutrients and minerals essential for their rapid growth.
Pot vs ground – Which one is better?
By looking at the benefits and drawbacks of both methods, the ground method is much better for growing larger, faster, growing bonsai trees.
They get their natural environment to transform into healthy trees. This also contributes to a green environment necessary for every living thing by getting more oxygen and preventing pollution. 
However, if you are a beginner, I recommend planting in a pot in the first instance. 
The vast majority of people grow bonsai trees in pots, and doing so will allow you to analyze your limitations. 
You should always opt for an outdoor plantation if you have enough space and want to grow an enormous imperial-sized tree. It will help your bonsai grow faster, healthier, and more robust.
You need to maintain the bonsai well in the ground so that they are supplied with their essentials. They need proper water, soil, and sunlight to ensure healthy growth. 
While bonsai can proliferate with artificial soil such as volcanic ash rock or akadama, like all trees, they are more suited to their natural soil and environment. 
Survey on bonsai pot vs ground
Finally, I wanted to finish by asking ten plant paladin readers if they planted their bonsai tree in a pot or in the ground.
Here are the results: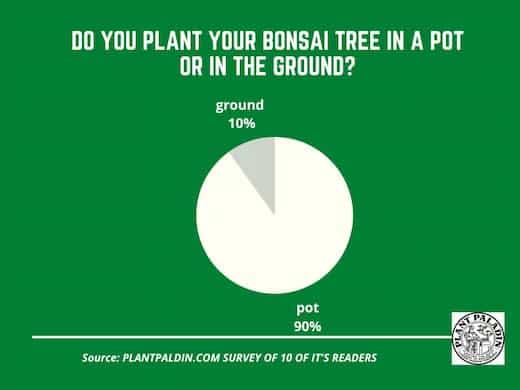 My top picks for the gear you will need!
So like I mentioned earlier, over the past three years of running PlantPaladin, hundreds of people have asked me for my recommendations on the best bonsai gear on the market. 
Having spent thousands of dollars on bonsai items these past few years and tested at least 100 bonsai-specific products, I've listed my favorite products below – All of which I highly recommend and think you can get great value. 
They can purchase directly by clicking the link to take them to Amazon. 
Bonsai Tool Set: One of the significant challenges I've had is finding a toolset that was not only durable but didn't break the bank. SOLIGT has recently developed a fantastic bonsai tool set that covers all the tools you need to trim, prune, and repot your trees. – You can grab it here. 
Complete Bonsai Set: Many of you will want to grow your bonsai trees entirely from scratch, but finding the varicose seeds, pots, and other items in one place can be challenging. Leaves and Sole then have created a complete bonsai set that I've personally used that ticks all the boxes. You can grab it here. 
Bonsai wire: The number of times I've run out of wire for my bonsai or purchased cheap bonsai wire that doesn't do the job is embarrassing for me to admit. After a lot of trial and error, I found that using Hotop's aluminum bonsai wire is one of the best options on the market. This can easily be used for both indoor and outdoor bonsai. You can grab it here.