This website is supported by its readers. If you click one of my links I may earn a commission. I am also a participant in the Amazon affiliates program and I will also earn a commission from qualified purchases.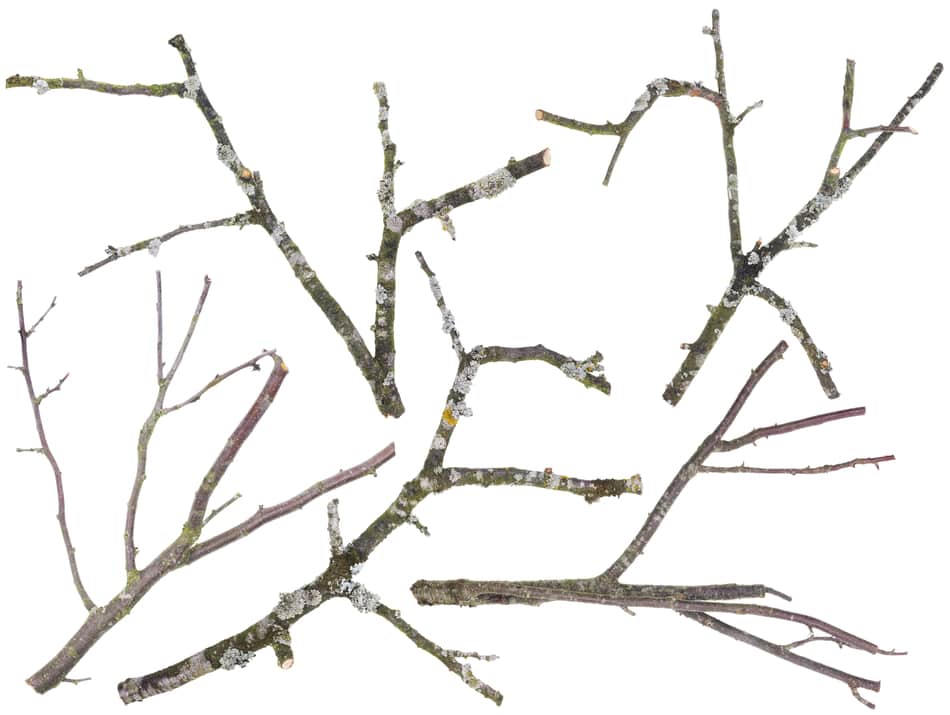 So one of the things that I was struggling with a few weeks back at the start of my bonsai journey was finding that the trunk of my tree was looking a little thin. I know the design I had in my head didn't exactly match up to the way it was looking, luckily I came across the idea of sacrificial bonsai branches. 
Sacrificial bonsai branches are tree branches that you grow out of your tree to help strengthen the trunk, keep your bonsai under control, and add girth to your tree trunk. These sacrificial branches are grown for two to three years to help strengthen your plant after which they are removed. 
So when should you grow out a sacrificial bonsai branch? And are there situations when you should avoid growing them? Keep reading to find out more!
A lot of you reading this post are just getting started with bonsai. You can find my recommendation for the best bonsai I found here (link takes you to Easternleaf) or the best Faux bonsai here (link takes you to Amazon)
What are sacrifice branches? 
Whilst a lot of us (myself included) thought we would be coming back from the garden center with a beautiful bonsai tree that needed very little work the truth of the matter is that the art of bonsai takes a while to get good at. 
One of the most common problems that bonsai users have is having trees that have weak trunks or having trees that just don't have the design we are going after. 
Sacrifice branches then, are a fantastic option to use at the start of growing and pruning your bonsai tree to ensure that the trunk of your tree will look healthy and that the overall design of your tree will look the way you want. 
To summarize then: 
Sacrifice branches are used in bonsai to add strength and girth to the trunk of your bonsai tree. 
This is used to help achieve a strong trunk which is essential for bonsai for tree health and aesthetic purposes. 
Sacrifice branches are usually grown directly out from the trunk of your tree. 
Sacrifice branches typically take a while to grow out and are nurtured over the space a few years to get the most benefit. 
After the sacrifice branch has been grown out it is removed (by cutting off) leaving you with a stronger trunk.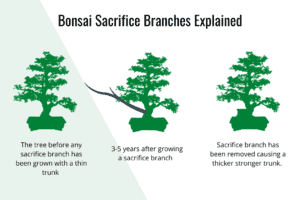 Where should you grow out sacrifice branches? 
The best place to grow out sacrifice branches is any side branch on your tree, any branches on the back of your tree, or any branches on the bend of the trunk. This is because sacrifice branches can leave scars that will be easier to manage in these spots. 
That being said, where to grow sacrifice branches will really depending on a few key factors such as: 
The room you have available on your tree 
Where you will place your tree – if you are keeping your bonsai tree indoors in a tight space like a flat or an apartment, you will need to keep all of this into consideration) 
How big you would like your bonsai trunk to grow – if you don't want as big a trunk you can get away with a smaller sacrifice branch.  
It's also worth noting that sacrifice branches will increase the size of the trunk from below where they are. Meaning that if you have a sacrifice branch halfway up your tunk only the bottom of that trunk will get bigger making it ideal for increasing taper. 
How long should your bonsai sacrifice branches be? 
Sacrifice branches should typically be grown for three to five years for best results. Leaving your sacrifice branch for longer than this will yield even thicker results. It is not advisable to leave your sacrifice branch for less than one year.  
Which branches should you use for Sacrifice branches? 
Ideally, you will want to use the slimmer-looking branches as your sacrifice branches as these are often a lot less desirable to look at, and will often not be missed when styling your bonsai, which typically use thicker branches. 
It's also important if you're thinking of using a sacrifice branch that you do not let this get too out of hand so that it blocks light from the rest of the branches. 
For best results consider trimming any foliage in your sacrifice branch in the first thirty centimeters or so. 
How do bonsai sacrifice branches work? 
Bonsai sacrifice branches work by allowing sacrifice branches to cause a blockage in the trunk of your tree. This blockage forces the tree to put more growth into the trunk to support the sacrifice branch. Your tree will then, in turn, send more nutrients to this blockage causing your trunk to grow bigger.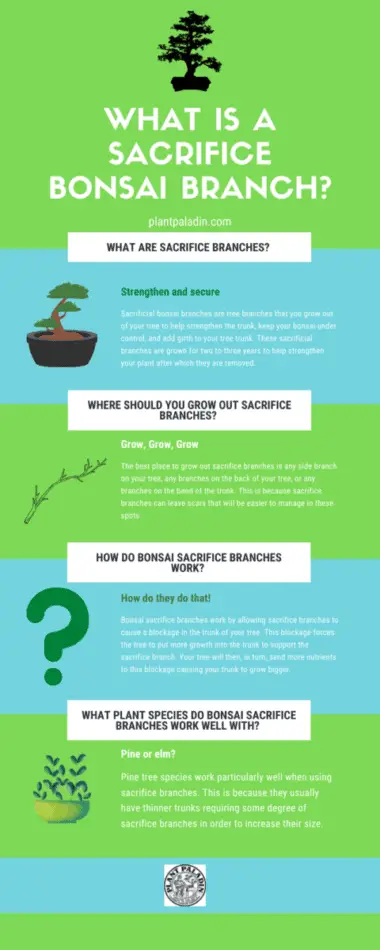 Why would you use sacrifice branches? 
The main reason why sacrifice branches are used is to strengthen up the trunk of your tree. For more complex designs a stronger trunk will be essential for tree health and aesthetics and so having a sacrifice branch will dramatically strengthen the trunk of your tree. 
What plant species do bonsai sacrifice branches work well with? 
Pine tree species work particularly well when using sacrifice branches. This is because they usually have thinner trunks requiring some degree of sacrifice branches in order to increase their size. 
Can you have multiple sacrifice branches? 
Growing out multiple sacrifice branches can be a fantastic way to grow out and strengthen the trunk of your tree as well as adding a taper to your plant in a smoother way. 
The only downside to this by growing out a number of sacrifice branches is that this can cause a lot of damage to your plant, taking a while to heal so if this is your first time, it makes more sense to start by growing out one and take things from there. 
How to grow a sacrifice branch? 
To grow a sacrifice branch, simply leave the desired branch you want to grow out without pruning or adjusting too much. Ensure this branch is not stopping sunlight or causing shade on the other branches and in a few years, you should have a stronger trunk.
This post was written by Fehed Nicass who has been passionate about bonsai for over 2 years. He currently resides in the Uk and works in sales.