This website is supported by its readers. If you click one of my links I may earn a commission. I am also a participant in the Amazon affiliates program and I will also earn a commission from qualified purchases.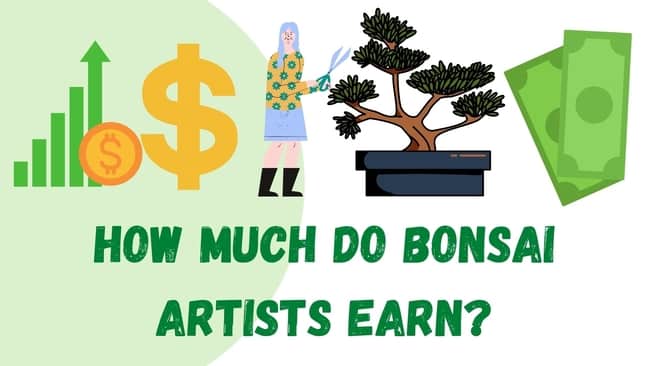 Bonsai is one of the more popular horticultural activities, with many people using the spare time they now have working from home to invest in the hobby. With the bonsai market expecting to grow by 10% over the next decade, turning bonsai from a hobby to a career is becoming a genuine option for many, So how much do bonsai artists make per year? 
Bonsai artist's salary starts at $30,400 per year. The median range of salary for a bonsai artist is $66,371 per year. The top bonsai artists can earn upwards of six figures per year at around $113,000. 
So what will impact your ability to earn the larger amounts as a bonsai professional? Keep reading to find out more!
Just a quick heads up, over the past three years of running Plantpaladin, hundreds of people have asked for product recommendations. As such, You can find my favorite indoor bonsai tree here (link takes you to Bonsaiboy), my favorite outdoor bonsai tree (link takes you to Bonsaiboy), or have a look at all the products I recommend here. 
How much do bonsai artists make?
 Having over 3 years of experience in growing bonsai in my apartment/house, a natural question I've been asking myself these past months is if you can earn a living working on bonsai trees. 
Whilst starting a bonsai business (through this blog) is one option, what would it look like if I want to work for someone else whilst managing my craft. 
As such, I scoured the web, got in touch with a few local professionals, visited my local botanical gardens, and even did a quick survey of plant paladin readers to get to the bottom of how much bonsai artists make. 
To summarise: 
Entry-level bonsai jobs typically start at $30,400 per year 
Most people who work in the bonsai industry will typically earn $66,371 per year 
With years of experience under your belt, it is possible to earn over six figures with bonsai, with the high-end jobs earning as much as $113,000 per year 
Most bonsai jobs, however, will require some level of qualification or course as well as a few years of experience in growing your trees if you would like to get involved in the industry.
Having experience in other fields such as hedge trimming, landscaping, groundskeeping, art, and design or other horticultural activities can also act as a gateway to get involved in the industry. 
How much do entry-level bonsai artists make? 
Entry-level bonsai artists will typically make $30,400 (£22,652) per year. This salary will typically be paid if you have one year or less experience in the bonsai field. It is not uncommon for entry-level bonsai artists to have to volunteer and intern before they start earning a salary. 
How much does the average bonsai artist make? 
The average median salary for a bonsai artist is $66,371 per year or £49,400. This can typically be achieved if a bonsai artist has at least 3 years of experience in the professional bonsai sector, is working full time, and has undertaken several courses to specialize in bonsai. 
As with everything, whilst entry-level jobs mighty only have some part of the job dedicated to bonsai with the rest of the activities focusing on other horticultural activities, becoming a specialist within the field of bonsai will allow you to earn more. 
How much does an expert bonsai artist make? 
Expert bonsai artists can earn over 6 figures with most expert bonsai artists earning on average $113,000 or £84000. Getting to this level will require at least a decade of specialized work in bonsai or a very strong portfolio of work. 
At this pay grade, you will have mastered almost all elements of growing and training a bonsai tree with a variety of different species. 
How much experience is required before bonsai artists earn 6-figures? 
Whilst earning 6-figures as a bonsai artist is possible, there are a few caveats to hitting these high figures. 
First, you need a lot of experience. 
Most bonsai artists that earn this much have at least a decade's worth of experience and have crafted hundreds of trees from scratch. 
Secondly, you need to be a specialist. 
Being a specialist in one specific area such as bonsai will mean you will be able to charge more for your knowledge. 
Whilst bonsai artist jobs are available, they can sometimes be hard to come by. 
The majority of these types of jobs are focused on all aspects of horticulture rather than just bonsai in particular. 
For example, my local botanical garden has a bonsai Japanese garden, however, most of the employees there not only tend to the bonsai trees but the other tropical trees that they grow there.
How many bonsai artists jobs are available on the jobs market? 
There are an estimated 5100 bonsai artists in the USA. The vast majority of these bonsai artists are self-employed meaning the number of bonsai artists available in the current jobs market is less than 50. 
Most bonsai artists are self employees meaning it is difficult to get exact job figures for the field. 
There are however an estimated 1,028,700 Horticultcultursits in the USA. 
Now looking over trends data, the comparison between bonsai artists and horticulturists is vast with bonsai artists only having around 0.5%volume as horticulturalists.  
As such, it would be safe to assume that there are around 5100 bonsai artists currently in the USA. 
Now on top of this, the horticultural market as a whole is set to shrink by 0.8% over the next decade meaning that the number of specific bonsai artists jobs available will also shrink. 
Do bonsai artists work full time? 
Most bonsai artists work part-time. This is because maintaining and caring for bonsai trees only takes a few minutes every week. Bonsai trees require less care during the fall and winter than they will in the busy growing season in spring and summer. 
As such, the earning potential for bonsai artists is likely to be much less than full-time paying roles. 
Bonsai artists who grow and sell their trees are likely to get closer to earning full-time amounts of income. 
What does a typical career in bonsai look like? 
To help explain what a typical career as a bonsai artist looks like, I've created a table below, that will cover your first 10 years in bonsai: 
| | | |
| --- | --- | --- |
| | | |
| | At this stage, you will likely be learning, so interning and taking as many courses as possible will be important for you. If you do get a job, it is likely part-time a few hours per week. | |
| | This is where you can start earning a full-time income as a bonsai artist, however, you will also be doing other horticultural activities to subsidize your income such as hedge trimming. | |
| | This is where you will be able to hit the median range of income by specializing and finding roles that specifically require bonsai expertise. | |
| | This is where you will become a master of your craft, and can start freelancing or start your own business to truly succeed as a bonsai artist. You will also likely be able to get jobs in museums or premium botanical gardens with a strong case study of work. | |


What education is required for a job in bonsai? 
Showing that you have undertaken bonsai courses is the first requirement for a job in bonsai. You must also have a strong portfolio of work of the bonsai trees you have grown. Having a degree (or equivalent) in horticultural care will prove beneficial. 
How can you make money through bonsai? 
The best way to make money through bonsai is by either growing trees from scratch or selling them once they hit maturity. Another viable option to earning money through bonsai would be to teach courses, either online or in-person on how to grow bonsai. 
What to prepare for a bonsai artist interview? 
In an interview, I would recommend either bringing in the following: 
Any education, courses degrees that you have around bonsai or horticulture 
Experience from other horticulture jobs and how the skills can be transferred into bonsai artistry. 
Example of the trees that you have grown, with detailed explanations on what the growing process was like for each 
Survey on how much do bonsai artists make?
Finally, I wanted to finish up by doing a quick survey of 5 plant paladin readers who are also bonsai artists asking them how much money they make. 
Sadly the results were a little all over the place meaning there was no real correlation due to the sample size however I thought it would be good anecdotal information for you to have if you are looking for a career in bonsai artistry.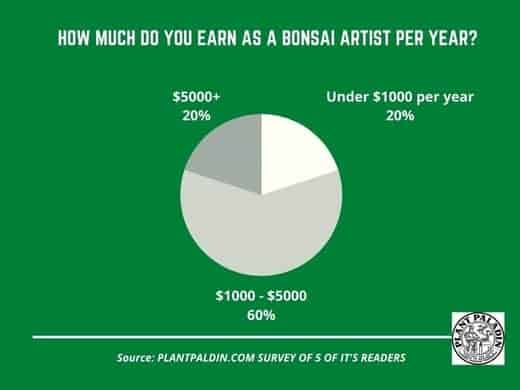 My top picks for the gear you will need!
So like I mentioned earlier, over the past three years of running PlantPaladin, hundreds of people have asked me for my recommendations on the best bonsai gear on the market. 
Having spent thousands of dollars on bonsai items these past few years and tested at least 100 bonsai-specific products, I've listed my favorite products below – All of which I highly recommend and think you can get great value. 
They can purchase directly by clicking the link to take them to Amazon. 
Bonsai Tool Set: One of the significant challenges I've had is finding a toolset that was not only durable but didn't break the bank. SOLIGT has recently developed a fantastic bonsai tool set that covers all the tools you need to trim, prune, and repot your trees. – You can grab it here. 
Complete Bonsai Set: Many of you will want to grow your bonsai trees entirely from scratch, but finding the varicose seeds, pots, and other items in one place can be challenging. Leaves and Sole then have created a complete bonsai set that I've personally used that ticks all the boxes. You can grab it here. 
Bonsai wire: The number of times I've run out of wire for my bonsai or purchased cheap bonsai wire that doesn't do the job is embarrassing for me to admit. After a lot of trial and error, I found that using Hotop's aluminum bonsai wire is one of the best options on the market. This can easily be used for both indoor and outdoor bonsai. You can grab it here.